"Equipping high school students with basic Biblical knowledge and an understanding of the Christian world-view through an integrated study of Western Civilization."
Since 2004, tutorial classes for 8th-12th grades have met on Wednesdays at Abundant Life Church in Mt. Juliet, Tennessee. The core program is built around an integrated chronological study of Western Civilization beginning with the ancient world in 9th grade and finishing with the 20th century in 12th grade. The core courses for each high school grade are history, literature, art history and Bible. In addition, FSSC also offers courses in the sciences, applied-arts and performance arts. For more information, please contact us.
The Schaeffer Study Center Ultimate Field Trip!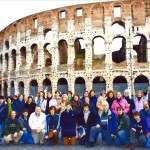 Italy, Austria, Germany – the Renaissance & the Reformation
Departing Nashville, December 26th, 2015
Returning Nashville, January 8th, 2016
Tour Leader: Rob Shearer, Director, Francis Schaeffer Study Center
Complete Package Price (airfare, hotels, meals, local transportation, museum entrances): $4,489.
Open to students, ages 15 & up, and interested parents & friends of the Schaeffer Study Center